The Argentina Under 20 National Team, led by Javier Mascherano, was included in group A of the South American Sub 20. The Albiceleste He will debut facing his pair of Paraguayan on Saturday 21, from 4:00 p.m. local time (18 in Argentina).
Group A is made up of Argentina, Brazil, Colombia, Paraguay and Peru; while the B will compose it Bolivia, Chile, Ecuador, Uruguay and Venezuela.
After the aforementioned debut with Paraguayan the Argentine team will face the classic with Brazil on January 23 at 9:30 p.m. (always from Argentina); then continue with Peruthe 25 the 19, and will close with Colombiaon the 27th, again at 9:30 p.m.
The contest, which will be televised by T&C Sportsin addition to qualifying the top four for the Indonesian World Cup which will be played between May and June, will allow the occupants of the first three places to access the Pan American Games in Chile that will take place between October and November also of this 2023.
The list for the South American Sub 20:
archers: Francisco Gomez (Racing Club), Federico Gomes Gerth (Tigre), Franco Herrera (Newell's)
defenders: Lautaro Di Lollo and Nahuel Genez (both from Boca Juniors), Brian Aguilar and Julián Aude (Lanús), Agustín Giay (San Lorenzo), Valentín Gómez (Vélez Sarsfield), Ulises Ciccioli (Rosario Central) and Francisco Marco (Defense and Justice) ).
midfielders: Máximo Perrone (Vélez Sarsfield), Maximiliano González (Lanús), Gino Infantino (Rosario Central), Axel Encinas (River Plate), Facundo Bouunanotte (Brigthon) and Nicolás Paz (Real Madrid)
strikers: Ignacio Maestro Puch (Atlético Tucumán), Alejo Véliz (Rosario Central), Brian Aguirre (Newell's), Nicolás Vallejo (Independiente), Santiago Castro and Julián Fernández (both from Vélez Sarsfield).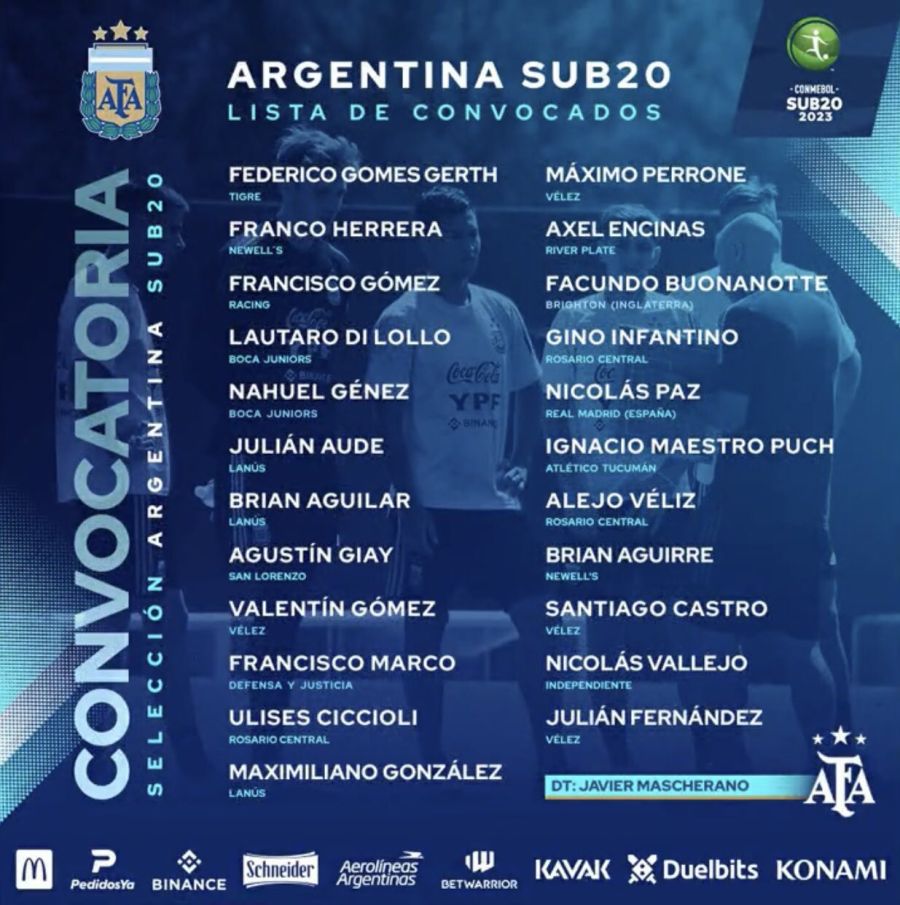 Alejandro Garnacho, Matías Soulé, Luka Romero, Valentín Carboni and Franco Carboni They will not be loaned out by their clubs.
Source: Telam