Together for Change is the favorite force ahead of the elections according to the consultancy Tachyon, followed by the liberals and the Frente de Todos occupies third place. Regarding specific issues, the numbers vary a little, in relation to the improvement of the economy, Javier Milei is the most chosenand in matters of security and justice, trust is placed in the front headed by Patricia Bullrich and Horacio Rodríguez Larreta.
"Society sets its expectations when choosing new representatives, betting on the positive impact that said instance can have on the general state of mind," the pollster's report details. In relation to this, the survey yielded the result that 4 out of 10 Argentines affirm that the presidential election is the event that generates the most expectation in the year and 46% believe that they will have a positive impact on social humor.
In this framework, 33% would vote for Together for Change, 26.3% for Milei's liberalism and 23.7% for Frente de Todos.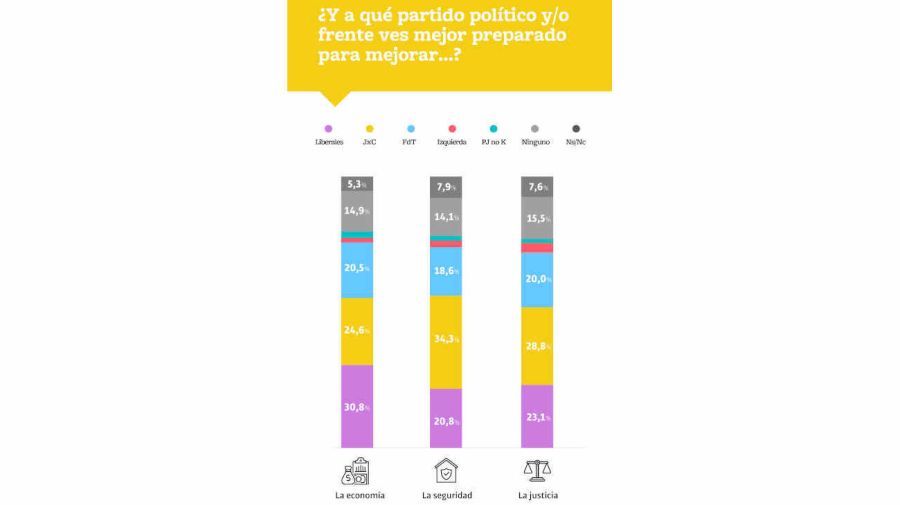 Regarding what type of characteristics are prioritized to elect a president, the following were highlighted:
The firmness to make decisions and communicate them
A leader who dialogues and seeks agreements with the opposition forces
Looking for "new leaders"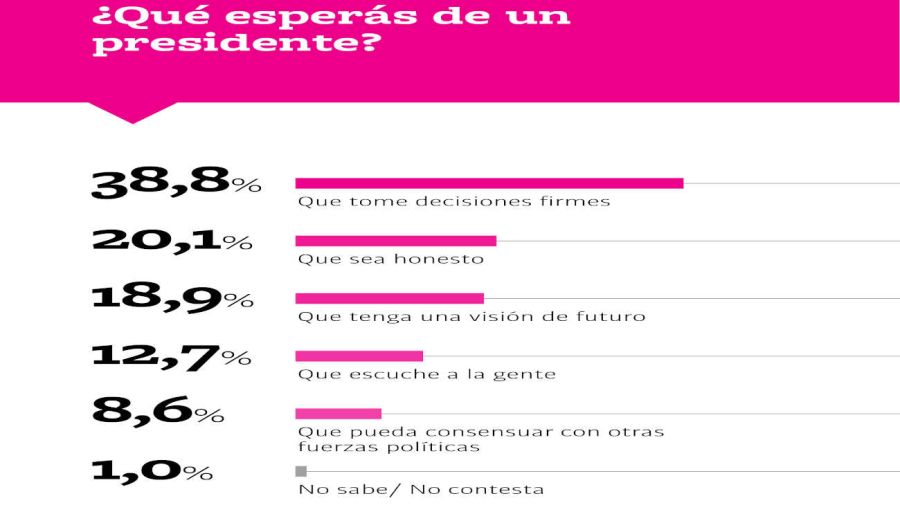 Social humor in Argentina
Regarding the feeling of general mood, most said it is negative (41%)It is followed by "more negative than positive" (38.2%) and far below "more positive than negative" (14.5%).
However, regarding the incidence of the presidential elections in this state of mind, 45.9% have positive expectations. This event also tops the list of what generates the most expectations on a personal level, above other private goals such as taking a trip or starting a project.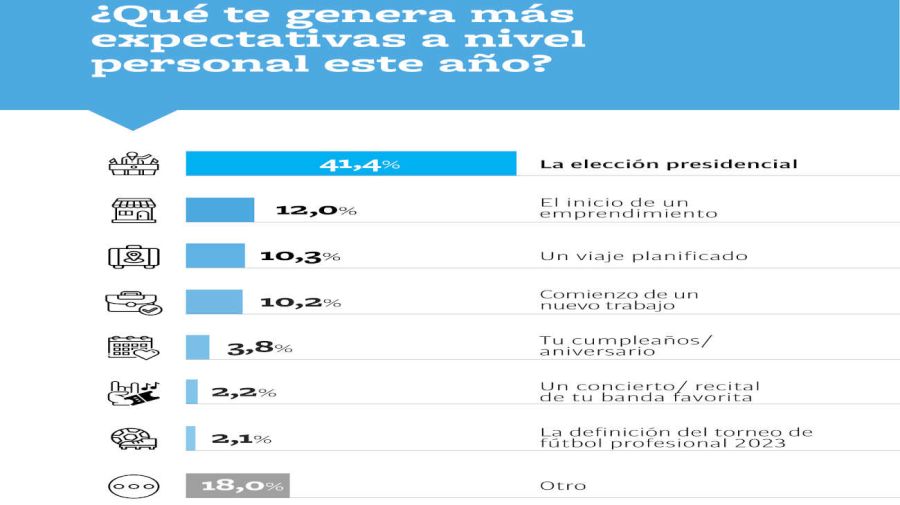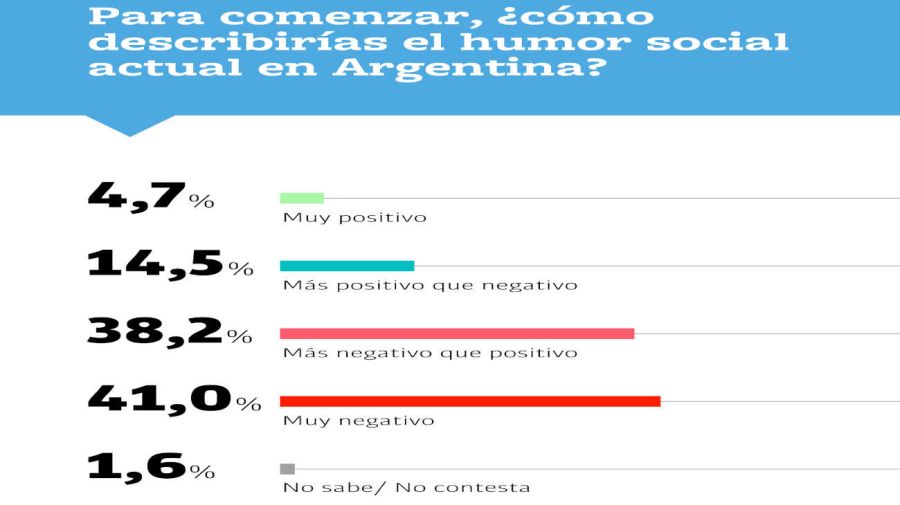 Better known bad than good to know?
7 out of 10 Argentines are little or not at all in agreement with the idea that a well-known candidate is preferable to a new one: "The expectation generated by the elections goes hand in hand with the desire for freshness and novelty in Argentine politics.
Another of the queries was about the most urgent priority in the country and, as expected, the economy leads the survey and, given the query about a Which politician would they choose to start a venture? The favorite was Javier Milei with 23.2%.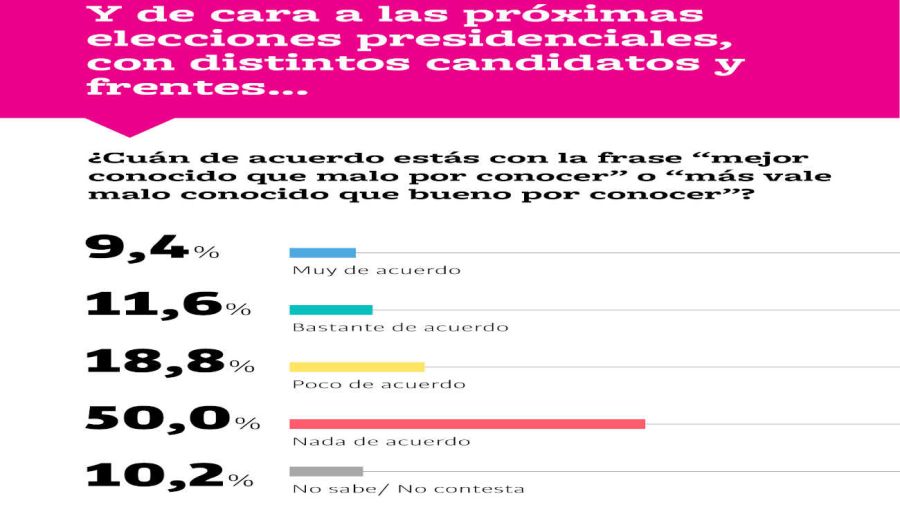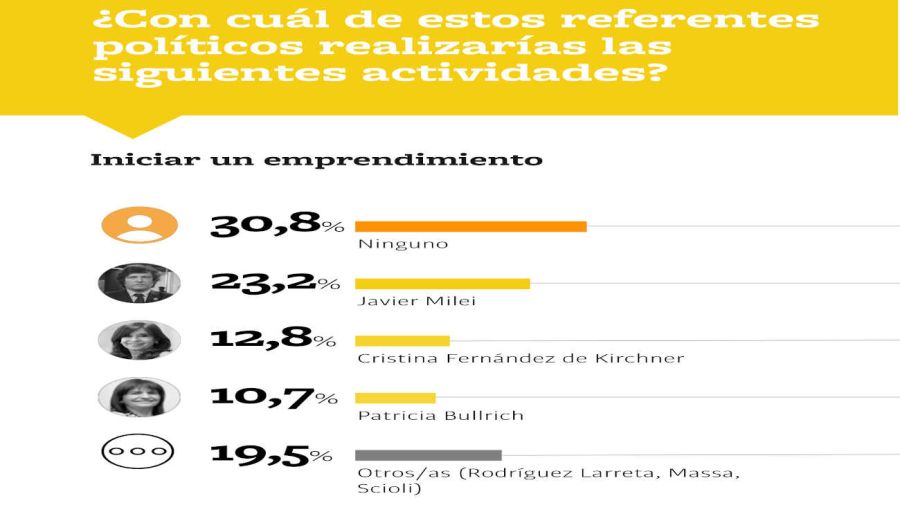 47% would not leave their children in the care of the main national leaders
47.1% of Argentines would not leave their children in the care of any political leader. In women this option increases to 54.7% and in men it decreases to 40%. Politicians would not be the ones chosen to go see a sporting event either, but Daniel Scioli tops the list with 17.3%.
To share a barbecue, Javier Milei and Patricia Bullrich are the most voted, but both changed only 18%.
The survey data is from a national sample of 2,669 effective cases, with a semi-structured questionnaire conducted between May 8 and 13, 2023.
RB / DE